School choice supporters from across the Centennial State converged on the west steps of the Colorado Capitol for a history-making rally and celebration on Monday, January 26, 2015 at 9 am. The message of the event: school choice is working for Colorado families.
Colorado Senate Education Committee Chairman Owen Hill (R) and State Senator Mike Johnston (D) spoke at the event and students from the Excel Institute performed.
The event, which brought together education advocates of all ideologies and backgrounds, put a positive spotlight on the success of Colorado's broad portfolio of education options for families, which include traditional public schools, public charter schools, public magnet schools, online academies, private schools, and homeschooling.
In addition, students, parents, and teachers shared their personal school choice stories. The event coincides with National School Choice Week (January 25-31, 2015).
"Colorado has been a leader in school choice, but it is crucial that we expand the number of educational opportunities available," said Pam Benigno, Director of the Independence Institute's Education Policy Center. "As a state, we have not kept up with the demand for choice— especially for the kids who need options the most."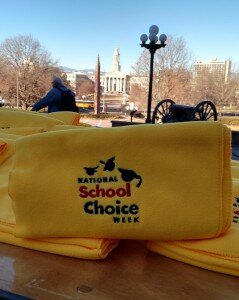 "Children are 10% of our population and 100% of our future," said Deborah Hendrix of Parents Challenge. "Choice in education is paramount for our country's success."
"As a business community, we are working to make Colorado the best place in the world to raise a child and grow a business," said Scott Laband, President of Colorado Succeeds. "We know that education is central to that effort, as is access to high quality school choices. Everything we do is focused on making sure our state provides all children in Colorado with world-class educational experiences."