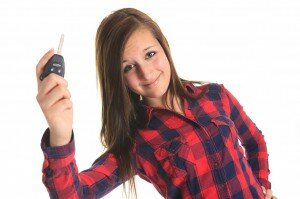 Colorado School Grades partners with Moms Fight Back to highlight school safety issues. This post is excerpted from their Back to School Safety eBook. Read more on the Moms Fight Back website.
This week we're highlighting safe travel to school. We focused on school buses, also walking to school and biking to school. Today, what if your teenager is ready to drive to school?
More than half of school-aged children in the United States arrive to school by car and a vast number of those are teen drivers driving themselves to school.
According to The National Center for Health, motor vehicle crashes are the leading cause of death among 15-20-year-olds and teen drivers are the most at risk for motor vehicle crashes. Aside from always wearing a seat belt (studies have proven for decades that seat belts do save lives) there are a few tools you can implement to help ensure your teen driver arrives at school safely.
If you have a young driver, Zubie can come in handy, especially if you don't own a technology-enhanced car. Zubie plugs into a car's diagnostic port and shares location, speed and GPS data as well as diagnostic data to let you know if there are any problems with the vehicle. Zubie tracks driving behavior based on key metrics and reports instances of speeding and hard braking, among other things. You can get the Zubie device and service for around $100.
Worried about your teen driver texting while behind the wheel? SecuraFone is a one-of-a-kind mobile application that prevents the use of distracting applications such as text messaging and email while the device is in motion. The application also provides parents, caretakers and others with the ability to receive alerts based on specific events or conditions such as speed alerts, inactivity alerts, and the entry into or exit out of virtual boundaries that can be set up with a click of a button. SecuraFone is free to download and requires a monthly service subscription of $8.95. Available for iPhone and Android.
Whether your child is walking, biking, taking the bus, driving, or being driven to school, safety always comes first. Educate your kids to help them make smart decisions about safety on their own.