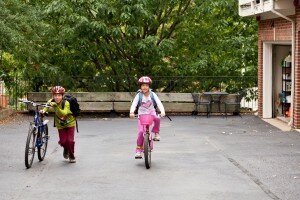 Colorado School Grades partners with Moms Fight Back to highlight school safety issues. This post is excerpted from their Back to School Safety eBook. Read more on the Moms Fight Back website.
This week we're highlighting safe travel to school. We focused on school buses and walking to school. Today, biking to school.
First, teach your child some basic rules-of-the-road for bicyclists:
Your child must wear a helmet. Always. Even if it is a short ride. No exceptions.
Brightly colored clothing helps drivers to see your child biking.
Ride with traffic, on a designated bike path or in a bike lane.
Stop and look both ways before entering a street, intersection, driveway, or crossing an alley. Stop at all intersections, whether marked or unmarked.
Before turning, use hand signals and look in every direction.
Much like the walking school bus, many school communities and neighborhoods are helping kids get to school safely by bike by setting up a bike train.
What is a bike train?
"A bike train is a group of students and adults who bike to and from school together, making stops along a previously designated route to pick up others as they approach the school. While walking school buses (the walking version of a bike train) are great for shorter distances, bike trains allow children who live farther from the school to participate in active transportation." (From: the Bike Train Guide created by Fire Up Your Feet.)
Tomorrow: Prepping for your teen to drive to school.