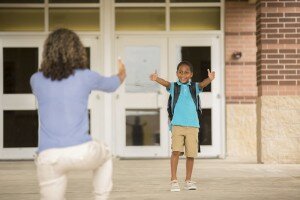 Colorado School Grades partners with Moms Fight Back to highlight school safety issues. This post is excerpted from their Back to School Safety eBook. Check out tips for choosing a safe school here.
If your child's school doesn't meet your criteria for safety there are a number of things you can do to get involved and help make a change:
Introduce Be Safe and Sound in School (B3S) to your school community. B3S a seven-step program that provides school administrators, teachers and staff with the tools they need to proactively address school safety. The B3S Guide to Best Practices is a free download you can use to help your school attain higher safety standards.
The three key goals of the program are to raise community awareness of school safety issues, engage parents and students in making schools safer and to create plans to reduce criminal activity in schools. The resources at the link above include all of the materials any school needs to make their B3S initiative successful, including surveys for parents, students, and staff that help identify concerns, school safety, as well as school security assessments.
The National Crime Prevention Council website also offers a wide range of information and tips for improving school safety. Review their School Safety page to learn more.
If you see a real problem at your child's school, consider joining the Parent Teacher Association (PTA) and attending meetings. Talk to other parents about your concerns and try to join together, ensuring a louder voice and more attention to your desires for a truly safe school for your child. The only way through the haze of school violence and fear to peaceful environments that are healthy for our kids is by bringing this information and the potential solutions to the forefront.