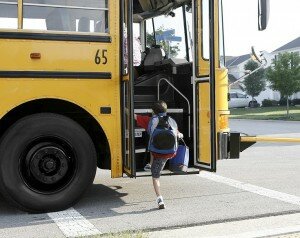 Colorado School Grades partners with Moms Fight Back to highlight school safety issues. This post is excerpted from their Back to School Safety eBook. Read more on the Moms Fight Back website.
Ensuring your kids get to school safe and sound is no longer as simple as sending them off to the bus in the morning with a hug. According to Healthychildren.org, 815 students die annually, and 152,250 are injured during regular travel between school and home.
The Colorado Safe Routes to School Program tells us that less than 15% of all trips to school are made by students walking or biking, more than 50% arrive by car, and 25% travel to school by bus. However your child travels to school, we've compiled safety tips and thinking points to help ensure safety along your child's route to school. Today's highlight: traveling to school by bus.
The National Highway Safety Administration states, "School buses are the safest mode of transportation for getting children back and forth to school." Reasons for this include the extensive safety, security, and medical training bus drivers receive, and strictly enforced school bus traffic laws. This does not mean that our trusty yellow school buses are free of risks. The very acts of getting on and off the bus account for three times as many school bus-related deaths compared to the ride itself. These serious injuries and fatalities during loading and unloading can occur when children are in a hurry getting on and off the bus, don't pay attention to surrounding traffic, or move out of the bus driver's sight.
To avoid these threats, teach your children these common-sense precautions when they ride the bus to school:
Never move toward the bus until it has come to a complete stop, the door has opened, and its safety lights are flashing.
Always stay within the bus driver's view, walk in front of the bus only.
Never move around on the bus. Stay in your seat. If the bus has seat belts, always wear one.
Obey the driver, and speak quietly so the driver can concentrate.
Never stick anything out of a bus window.
Tomorrow's safe routes to school highlight: walking to school.