by Alisha Janes
Slavens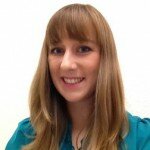 K-8 School is a high-performing neighborhood school located in southeast Denver. I recently took a short tour of Slavens with the principal, Kurt Siebold, who was happy to show the school's new expansion. The updated school features shiny-new additions, right next to the older and more-traditional buildings, in much the same way that instruction at Slavens incorporates the best of both new thinking and traditional thinking about achievement and learning.
Nowhere is this better illustrated than in the school's STEM lab, where new computers in collaborative work stations are placed on top of the old gym floor. During my visit, the students in the classroom gathered around one station presenting completed projects from a computer coding program. Just before the class left, students shared what coding skills they learned and the entire class shouted "we are coders!"
Mr. Siebold credits the success of the school's STEM instruction to more than just the high-tech content, noting that the lab facilitator has fully embraced an inquiry-based learning process that enables students to create their own learning within a supportive environment.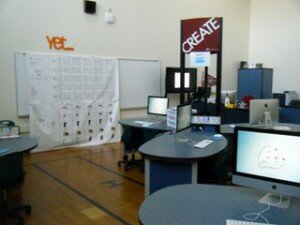 This fits in well with the school's culture of high expectations. Mr. Siebold points to a poster on the wall of the STEM lab, titled with only one word, "Yet." He says this summarizes the school culture well because, even though students may not be able to do something yet, they can and will accomplish what they set out to do.
Upstairs, although the upper-grade classrooms feature a more traditional look with desks neatly placed in rows or groups, the students are all standing and waving their arms in unison. Mr. Siebold explains that this is a "brain break," encouraged to get students up and moving at least every twenty minutes. This is a part of the school's philosophy of fostering the development of the whole child, which includes PE daily for elementary students and every other day for middle school students.
Slavens also has been maintained a strong art program thanks in part to a culture of community support. The school benefits from several parent and community groups, which help maintain the enrichment programs for the whole child. The strength of this program is evidenced by the framed student art work that lines the hallways.
The overall atmosphere at Slavens feels comfortably like home. The school's juxtaposition of traditional and new ideas produces strong outcomes, making this neighborhood school a great example of the high-quality neighborhood schools you can find on Colorado School Grades.
Alisha Janes is a fellow at Colorado Succeeds and is currently pursuing a Masters of Public Administration at the University of Colorado at Denver. Alisha's previous experience include: coaching new teachers, teaching intervention lessons, and three years of teaching a Bilingual 5th grade class in Houston, TX.